Being an owner of a luxury Yacht or Yachts is itself a style statement. A luxurious Yachts connotes an opulent lifestyle is all about. These Yachts are a symbol of the wealth a man holds.
Therefore, when someone wants to buy the best and expensive luxury for their talk of the town parties, friendly get together or just for a free and easy weekend stays, they should know the top 10 most expensive luxury yachts in the WORLD.
We now give the list of 10 yachts which costs the earth but are capable of providing all the luxuries one can think of when owing a Yacht.
History Supreme
History Supreme is what defines what a Luxury is all about. With a price tag about $4.5 billion, it has won the title of the "most expensive yacht in the WORLD." The makers of this Yacht dedicated their three years of life to make this 100 feet beauty. This yacht is owned by an unnamed Asian businessman, a Malaysian.
What makes it the most expensive Yacht in the World is that it is made of Gold and Platinum both inside and outside. Even its anchor is made from these costly metals. The combined weight of History
Supreme is somewhere between 10,000 kgs to 22,000 kgs. The most mesmerizing and exclusive feature of this yacht is its beautifully designed master-bedroom. Believe it or not, the walls of this bedroom is engraved with rocks of a REAL METEORITE. Yes, a genuine meteorite on the walls of a bedroom. Adding to its extraordinaire is a figurine of a T-Rex made from the extinct reptile's real bones.
To make the features even more jaw-dropping, it has a wall aquarium. The bedroom of this yacht has an iPhone shrouded in 500 cut diamonds along with two pieces of precious stones embedded on its home button. And, to justify its name as a HISTORY Supreme, it boats a liquor bottle costing around $54 million because of some rare diamonds of 18.5 carats on it.
Eclipse
Eclipse is owned by a Russian Businessman Roman Abramovich and said to cost around $800,000 to $1.5 billion. Ranked as a second most expensive yacht in the World, is a product of Blohm and Voss of Hamburg, this 536 feet long boat has some unique features like a built-in security system, an anti-paparazzi shield to avoid all the unwanted clickings of pictures and missile defence system along with bullet-proof windows. The yacht consists of 24 guest rooms, two helipads, and a mini-submarine. It requires around 70-crew members to maintain this beauty.
Streets of Monaco
This beauty is a miniature of a Monte Carlo, representing all the opulence of Monaco. Being the third-costliest yacht in the WORLD, it costs somewhere around $1.1 billion. This prodigious 500 feet boat is a complete replica of the Hotel de Paris, Loews Hotel, Cafe De Paris, Monte Carlo Casino, and a racetrack.
The credits of this beautifully designed yacht go to an England's company named Yacht Island Design of Derbyshire. This boat has a capacity of accommodating 16 guests in its seven guest suites each flaunting an extravagant bath and dressing rooms, reception hall, and a die-for view balcony.
Azzam
Described by its manufacturers Lurssen Yachts as the most complex and challenging yacht ever built by anyone. Owned by Sheikh Khalifa bin Zayed al-Nayan, the President of United Arab Emirates, Azzan acquires the position of World's fourth costliest yacht and the largest yacht with a size of 590 feet long.
Making a mark in the World, Azzam is claimed to be the fastest yacht in the World with a speed of 30 knots or 35mph. This boat gets it mind-blowing and sophisticated features and interiors from the lavish boat's French interior decorator Christophe Leoni.
Dubai
This yacht has every bit of luxuries. Owned by the Royal Highness of Dubai, Sheik Mohammad Rashid al-Maktoum. The Royal Highness himself contributed to the interiors of this yacht. Perfect for the sun-batting, this boat has jacuzzis almost everywhere. It has a hand-made tile decorated swimming pool, along with hand-made color tessellations in the interiors. One of the eye-catching features of this yacht is the circular staircase of glass which keeps on changing its colors. This World's largest yacht has a capacity of accommodating like 115 people (including crew members) in its several guest cabins and suites.
Motor Yacht A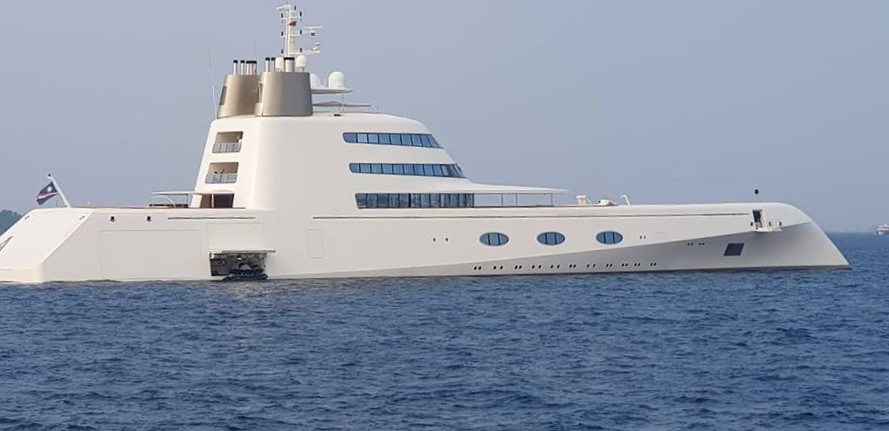 This 400-feet long yacht costs around $323 million and owned by the famous Russian billionaire couple Aleksandra and Andrey Melnichenko. This yacht is a symbol of the exorbitant lifestyle.
Designed by the Blohm+Voss of Hamburg, this yacht boasts a disco of an area of 2,500 square feet. Having some mirrored walls, spanning around 24,000 square feet, this yacht consists of six guest suites that are convertible to staterooms. Its glassware, tableware, and furniture are designed and crafted of French crystal. Keeping the levels of luxurious lifestyles at the top, its one of three swimming pool has a glass bottom just above the disco.
Having a helipad and a large speed boat fixed, this yacht can hosts up to 14 guests and 42 crew-members.
Al Said
Making it to the seventh spot is the Al Siad is worth $300 million. Owned by Qaboos Bin Said Al Said the Sultan of Oman,, it is crafted by Lurssen Yachts in the years 2007-2008. This yacht boasts a huge concert hall with an orchestra of 50-pieces. This yacht has a capacity of 70 guests and 154 crew-members making it one of the largest boats.
Dilbar
Keeping itself on the 8th position, Dilbar is a luxurious superyacht worth $250 million, owned by Oligarch Alisher Usmanova of Russia. Built by Lurssen Yacht in 2008, this yacht gets its name from the Mother of Oligarch. It has many opulent features one of them being an avant-grade spa pool and beach club. It can accommodate around 20 guests and 48 crew members.
Lady Moura
Owned by a Saudi Arabian businessman Nasser-Al-Rashid, Lady Moura costs around $210 Million. Built around 28 Years ago by some well-known shipbuilding company Blohm+Voss Shipyards. As being owned by a Saudi Arabian businessman, and their love of Gold is something pretty famous in the World. Therefore, the most attractive part of this Yacht is its name engraved in PURE GOLD. And, it's a 24-carat pure Gold.
Lady Moura offers some extravagant features like its king-size swimming pool, foldable roof, a fine-dining with some lavishly done interiors, and a room table exclusively designed by Viscount Linley.
The most beautiful and die-for feature of this Yacht is its Saudi Arabian unique design and architecture. Having a size of 344 feet has a hydraulic platform covered with real sand along with Palm trees and deck chairs to give a good taste of Arabian culture. This beauty can accommodate up to 30 guests and 60 crew members in its several rooms.
Al Mirqab
Costing around $250 million, Al Mirqab is owned by Prime Minister and Foreign Minister of Qatar, Hamad-Bin Jaber Al-Thani. This yacht is custom-designed Peters Schiffbau Wewelsfeth of Germany.
This yacht was the World's most beautiful luxury yachts in 2008. The owner of this yacht has two VIP rooms exclusively for him. This yacht can house around 24 guests in its ten guest suites all equally decorated with exorbitant bathrooms, balconies, living rooms, and dining rooms. This yacht has a variety of equipment for watersports, making it unique.
Here is the guide to all these luxury yachts in the World